Anchor
Let's go shopping! A retail paradise to meet all your needs and desires
Thenight markets of Taichung lack for nothing. With the recent prosperity of Taichung City, it is only natural that the city offers havens for snacks and shopping and bases for coffee, arts and culture. If you want to find a place to experience the ever-changing Taichung, you do not need to look further. In Taichung, there are many diverse night markets for you to explore.
Tung Hai Arts Street
A utopia brimming with humanity, literature, and culture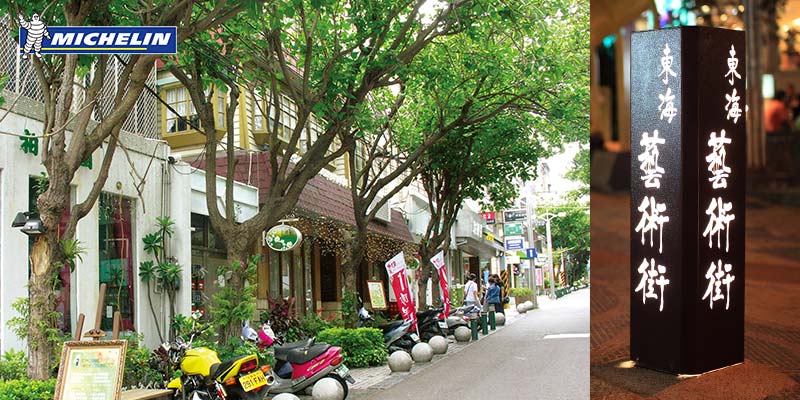 Tung Hai Arts Street is located near Tung Hai University. It is set in a rather idyllic community, the streets lined with beautiful old apartments, now repurposed as a shopping street. They are filled with craftwork and accessories from different places, each with its own individual style. Integrate arts, business, and life: pause here a while, take a sip of coffee, feel the artistic atmosphere in the air, and enjoy this unique district. (Longjing District)
Jingming 1st Street Night Market
Taiwan's answer to the Avenue des Champs-Élysées
What is most unique about Jingming 1st Street is its comfortable and leisure environment. There are outdoor chairs on the sidewalks, allowing you to rest when tired of shopping. With the aroma of coffee adding to the continental atmosphere, it is the first street in Taichung to be selected as an exemplar street by the Civil Services of Doc, Ministry of Economic Affairs.
There are over a hundred boutique-style stores, selling clothes, food, and afternoon tea, etc. The street also features the Emperor's Crown Wishing Pond. There are many artistic and cultural events held on weekends. Many flamboyantly dressed couples like to frequent to this beautiful street. (Western District)
Ching Mei Night Market
Taichung Ching Mei Night Market stretches from Ching Mei Eslite, to Ching Mei Museum, and then down Jing Dian Green Park Path. Along the road, you can find vivid artistic installations to photograph – a cultural journey to be taken on foot. What is different from the other night markets is that the style of nearby stores are compatible with the intellectual and artistic atmosphere. Even though they have their own individuality there is an overall consistency to their design. If you want a unique night market experience, Ching Mei Night Market will touch you like never before.
Yizhong Night Market (Michelin)
A gathering point for young fashionable men and beautiful women
Compared to other night markets, most who come to Yizhong Night Market are relatively young. With the presence of the nearby schools and cram schools, it is a short-term relaxation base for students who need to take a break from studying. In the future, Yizhong Night Market not only will continue to assist more vendors in entering the market, it will be more oriented toward young adolescent fashion and culture. It will be a fortress dedicated to adolescent energy.
Not only is the Yizhong Night Market filled with the vibrancy of youth it is also a place to find reasonably-priced delicacies. At night, when the night markets open for business, you can get more here for less! (Northern District)
Feng Chia Night Market
You won't believe your taste buds – the creative foods on offer here are famous across Taiwan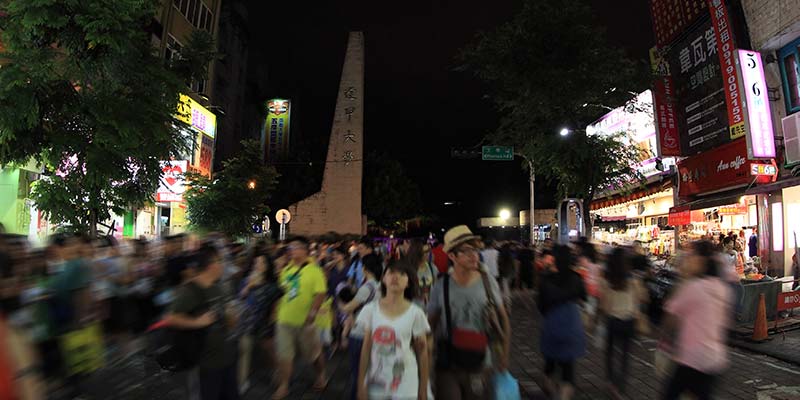 Feng Chia Night Market is within a 1 kilometer radius of Feng Chia University. It includes Wen Hua Night Market, Feng jia Road, Xitun Road, Fuxing Road, and Beacon Sun Plaza. According to marketing surveys, it is one of the most popular and visited night markets among young people. At weekends, as many as 30,000 people will pass through it! It is perhaps the most famous night market in all Taiwan. Feng Chia has all kinds of creative take-away snack food to sample; it is also full of new clothes that are oriented toward young students. They are fair-priced and fashionable. A sensory feast for both eyes and palate. (Xitun District)
Taichung Train Station Night Market
The home of sun cakes
Ziyou Road is the birthplace of sun cakes. It is a sun cake street. The sun cake stores look similar, but their merchandise all has its own distinctive flavours. They are waiting for you to try!
The nearby Jiguang Night Market sells many products to tourists: luxury items, leather shoes, clothes, and hair accessories. The Baroque Taichung Station, built during the Japanese Colonial period, and the 20th warehouse on Fuxing Road enhance the spiritual journey of the tourists. In addition, the night market is a key venue for events. Almost every month, there is a big event and performance held here. We welcome you! (Central District)
Fengyuan Miao Dong Night Market
A small heaven for shopping and delicacies beside the temple
Tzu Chi Temple of Fengyuan District worships Matzu and all kinds of Gods, and contains the best-preserved set of all 18 disciples of Buddha in Taiwan. It is the temple that is biggest in capacity and with the most pilgrims in the Fengyuan area. With the various events held at Tzu Chi Temple, Fengyuan Miao Dong Night Market is filled with people and has become the most prosperous area in Fengyuan.
The Miao Dong Snack Street beside the temple is in fact the famous Miao Dong Night Market. Many delicacies are here to delight your taste buds Other than delicacies and snacks, it is filled with financial, service, and movie industries. It is very prosperous, and the best place for entertainment. (Fengyuan District)
Xinshe District Night Market
A glamorous world of flowers
Xinshe District Night Market's design concept was inspired by the MRT. A map consisting of seven differently themed tour lines was designed, and marked on the electric poles in the district. Tourists can easily find the store locations by means of the electric pole numbers. A Purple Windmill mark of certification was granted by the Farm Certification Association, a badge which recognises health and the slow living movement. Combining with energy conservation and carbon reduction, Xinshe has successfully set an example for a LOHAS night market.
In Xinshe, each store has its different style, including the romantic European style, enthusiastic South Asian style, and quiet Japanese style. In addition, there are excellent scenic views, and unique cuisines that provide diverse selections.