Anchor
Taichung City Seaside Bikeway – Daan Section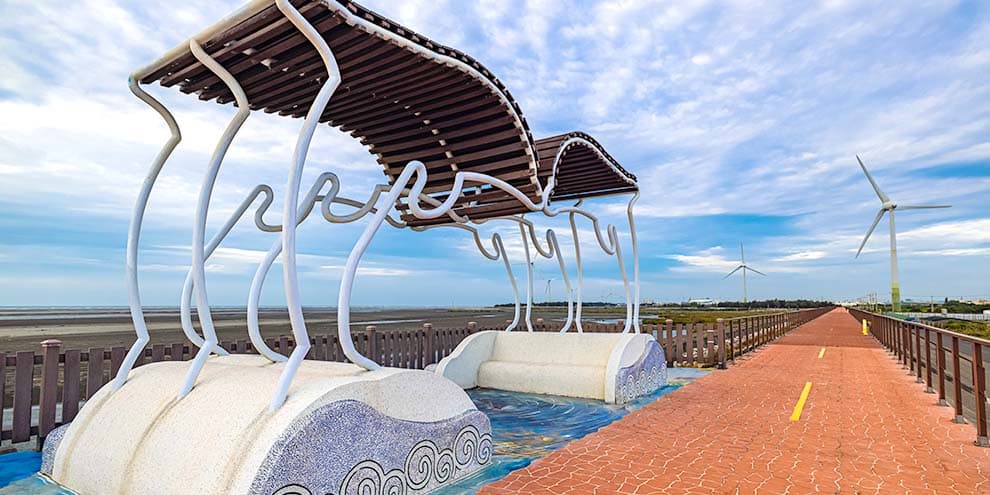 Introduction
Location
Dajia District, Da'an District
Height above sea level
5~22m
Route highlights
Starting Point:Linjiang Road Ending Point:The intersection of Nanan Road and Nanpu Embankment
The Daan Section of Taichung City Coastal Bike Path is 15.1 kilometers in length, connecting coastal attractions such as Daan Beach and Daan River Bridge and attracting the visits of families with children, couples, and water sports lovers.
Daan beach is flat and wide, covered with soft sand. At low tide, a large sandy beach that stretches for hundreds of meters is exposed. Visitors like to soak their feet in the cool seawater to enjoy relief from the summer heat.
Nayang Beach Resort combines beach, ecology, camping, and dining. Its luxurious campground is adjacent to the beach and demonstrates the eco features around Daan, successfully serving as an innovative resort in Taichung.
Pre-trip preparation
It is recommended to bring drinking water in personal bottles.
It is recommended that you bring sunproof clothing, hats, and handkerchiefs in summer, and windproof jackets in winter.
It is recommended to wear shoes that are easy to move and exercise in.
Suitable for
Parent-child
Couple
Friends
Elderly
Cyclist
Highlight category
Bike around Taichung, and enjoy the outdoors. Listen to the sound of ocean, take a deep breath, and start anew.
Services
Toilets
Bike rental station
Information
Vistor tips
A ride along Daan River Bridge gives the magnificent scenery of the estuary and the smell of the slightly salty breeze.
Daan Beach is a popular scenic spot along the coast of Taichung for seaside strolling and water sports.
Notice
Every summer (June to August) the swimming pool at Daan Beach is open from 8am to 5pm with an entrance fee charged.
The beach is open for surfing and kite surfing from April to December. Please strictly follow the safety rules when engaged in water activities.